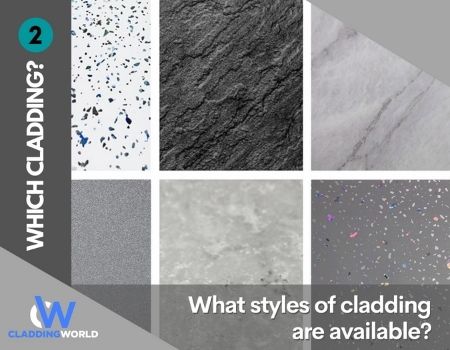 What Styles of Bathroom Cladding are Available?
What styles of bathroom cladding are available?
There are two types of bathroom cladding, "planks" and "boards". Both span from floor to ceiling, with plank style wall panels typically 250mm wide and boards 1m. Boards are often used in showering areas, and can be called shower panels. Planks are perfect for walls and ceilings due to their versatility and ease of use.
But within this general description, there are other variations to the panels.  The narrower cladding panels often come in different thicknesses dependent upon situation and installation method.  An 8mm panel is more robust than a 5mm one and works better on battening, and can be used to eradicate sagging when bonding to battens on a ceiling.  And so as not to compromise the look of the room, some designs can be bought across different sizes. Our sparkle collection of bathroom wall panels, for example spans across thickness and type. 
Cladding panels are no longer always perfectly flat and textured designs can be created, with our white ash 5mm wall panel being the perfect illustration. 
On thicker wall cladding panels give the opportunity to create deeper surface textures while keeping the integrity of a continuous surface. Our tile groove collection give the illusion of tiles without the grout, cost and difficulty. 
Does bathroom cladding come in different colours and patterns?
Bathroom cladding is available in a wide variety of colours and styles aside from the difference in construction. Our styles range from tile effect cladding to a rock effect or minimal look. The versatility of PVC wall panels enables wood effects and boutique designs that tiles cannot compete with.
When talking to customers about styles of cladding panel, while some have referred to the construction of the panels themselves, we have found that many are asking about the different designs and patterns that are created on the surface of the panel.  And because of advances in printing technologies, that is where the sky is the limit. 
With the use of cladding becoming more prevalent, more and more innovative designs are being created.  There's truly little chance that a customer is unable to find a pattern of cladding that could not meet their needs, whether using it as an accent within a room or cladding an entire room.
How do I choose a pattern?
To make choice easier for our customers, we have tried to set up as many paths as possible within our website to guide you to find something that suits your needs.  It is possible to search by board uses, colour, price per square meter or even style collection.
Because customers are often seeking a specific look, we have built a set of style-based collections.  These bring a range of products with similar design attributes and puts them under a single umbrella.  Whether looking for the raw, brooding nature of rock, the tradition facade of tiles, the pure glitter of Hollywood, or many other styles, Cladding World is here