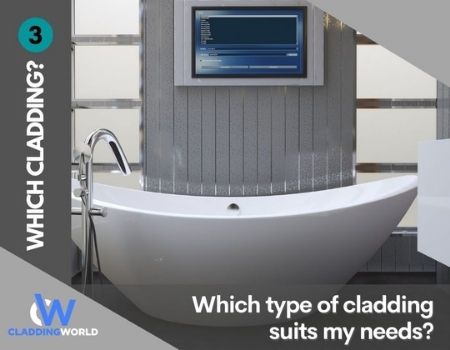 What Type of Bathroom Cladding Suits My Needs?
Which type of bathroom cladding suits my needs?
Bathroom cladding can be used effectively, to give a wonderful finish in many areas. However, if you are working anywhere there's water and wall areas need to be protected from its ingress, and anywhere a clean wipeable, hygienic surface is needed, then the properties of precision extruded PVC cladding are your first port of call.
But even within a small bathroom, there are a variety of panels that can be used in different situations to bring your vision to life.
What is the best type of bathroom cladding for showers?
Within shower enclosures, installers often use shower panels. These are usually wide (1000mm) and made to a thickness of 10mm. They give a large continuous surface and using an internal corner finishing trim, they give you a chance to impose squareness into a corner which may not be naturally square. They also lend themselves to other areas and contrasting coloured panels within a single room can be utilised to create accent walls.
What is the best type of bathroom cladding for walls?
The largest amount of surface designs are certainly contained within the narrower style of cladding. There are many that establish a continuous pattern across each piece of cladding while others use the width of the board to create a punctuated look across an area. There are ranges cladding panels come in both 5mm and 8mm thicknesses. Either can be adhered to flat walls, but when attaching to battening, we would recommend that the thicker boards is used. Regardless of the depth of the board, the plank shape and dimensions make them easier to handle, to adapt and to fit to those awkward places.
What is the best type of bathroom cladding for ceilings?
We would not recommend using the large "shower boards" on a ceiling. The weight and size of these panels make it exceedingly difficult for anyone other than a seasoned installer to fit. The narrower cladding panels are by far the best solution. The process is almost the same as attaching them to walls. With adhesive, they can be attached to a flat, plastered ceiling. And although we would always recommend a mechanical fixture such as screws to hold wall panels in place while the adhesive cures, with ceiling panels, this is imperative. When it comes to attaching ceiling panels to battens, ensure that the battens spaced no more than 450mm away from each other at their centres when using 8mm panels.