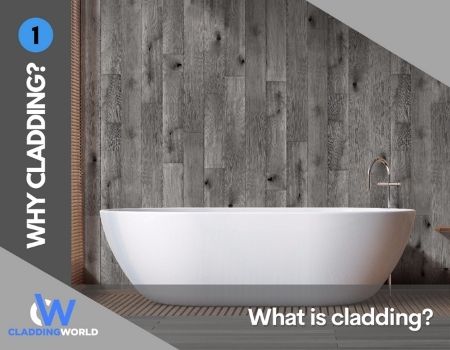 What is bathroom cladding?
Bathroom cladding is the term for PVC precision extruded waterproof wall panels. Sold in wide boards or narrow plank shaped lengths they are easy to install, low maintenance and hygienic. With tongue and groove edges they quickly slot together over pre-existing wall coverings such as tiles. 
Cladding has been around for a very long time, dating back centuries rather than decades.  Throughout most of its history, it has been used primarily on the exterior of houses.  Although it is not structural to the erection of buildings, originally being made of split timber lengths wood and attached in an overlapping pattern, it provided a waterproof covering to guard against the ravages of the weather.  Over time, the irregular nature of wood has given way to precisely extruded PVC panels and are now mostly used within the home. 
Due to the ability to create machined edges on either side of new panels, they are now able to butt against each other and still provide the waterproof quality that was originally sought, but without the need for overlapping and can therefore be made into a continuous smooth finish.  It has also meant that they no longer need to be laid horizontally to provide the lip that throws the water away from the wall.  This in turn, opens up even further the ability to create panels more for their look than for their use.
What size are bathroom wall panels?
There are two common widths and heights of bathroom cladding. Plank style boards, 250mm wide and 2.6mm high, often referred to as wall panels and larger 1m wide and 2.4m tall sheets, or shower panels. Both styles are designed to run from floor to ceiling in an average size room.
How thick is bathroom cladding?
The depth or thickness of bathroom cladding panels is usually either 5mm, 8mm or 10mm. The thinner end of the range is preserved for wall panels, with their plank style boards and are easier to handle and easier to adapt . The thicker, wider shower panels provide extra strength and rigidity where necessary. 
The wider boards are referred to as shower boards for a reason.  At 1m wide, it can take as few as two boards to cover the whole wall area within a shower enclosure.  There are fewer joints between boards which makes it far easier to ensure a waterproof seal between all junctions. And, the wider boards are usually sturdier because of their thickness, but they, will in most circumstance carry a higher price when measured by square meters. 
But cost is not the only factor when making the choice of which type of panel to use.  When working within small, enclosed areas where room is at a premium, it may be difficult to manoeuvre large panels especially when trying to account for sloping ceiling levels and the holes in the panels where switches and sockets need to show.  At this point, the use of the less expensive plank style boards may be the perfect solution.