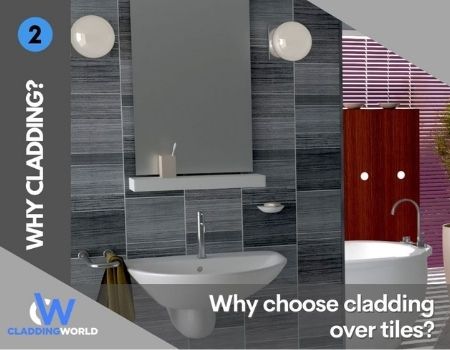 Why Choose Bathroom Cladding?
Why choose bathroom cladding over tiles?
Bathroom cladding has the edge over tiles on ease…cost…speed…hygiene…maintenance…variety!  Easy to install, a novice DIYer can have the first wall panel fixed within minutes with no specialist tools, a far more cost effective solution. No grout lines make for easy maintenance and a hygienic wipe clean surface.
The tongue and groove locking system does away with the aggravation of having to line up each and every component of a wall covering.  Once cut to size, pushing the panel into its neighbour will ensure its perfect position.  With the use of a self-contained sealant/adhesive that is used with a standard caulking gun and a few screws, you are on to the next board.  And when it comes to those tricky junctions at interior or exterior corners or at the end of a run of panels, there are specially designed trims that will ensure a clean, professional looking finish. 
As an added benefit, it you are looking to move from tiles to cladding, you don't even have to go through the process of stripping the tiles from the wall.  Once cleaned, cladding can be installed directly on the surface of the tiles.
Are cladding panels hygienic?
The hygienic properties of bathroom wall panels are built into the product itself. A smooth surface and tight-fitting locking system ensure that water, dirt and bacteria have little chance to find a home.  Without grout creating voids and edges where dirt can hide, mild detergent and hot water provides a thorough clean.
And it is grout within a tiled surface that ensures that at regular intervals, you will be faced with the time and expense of having to go through a renewal process.  Raking out the old grout and applying a new is pretty much the same process of repointing brickwork and just as much fun.
Are there more variety of bathroom cladding or tiles?
With the continuous surface achieved by cladding, the visual character of the installations are almost endless: rock, wood, sparkle, boutique, minimal and even tile effects can be achieved. Old fashioned tiles have existed in their current form for centuries and ultimately will always look like .... tiles.
Do bathroom wall panels feel like tiles?
Bathroom wall panels can mimic the look of tiles with incised lines to give a similar texture, with the façade still being an uninterrupted easy clean surface. Cladding has a micro-tubular construction, which traps air, creating a thermal break between the internal surface and exterior wall resulting in a warmer touch.